Tankless Water Heater Mississauga
Tankless Water Heater Installation and Repair in Mississauga, Toronto, and Oakville
The tankless water heater is a modern system that provides endless hot water supply, takes less space in the house, and decreases electricity utilization. 
Traditional water heaters use electric power or gas to heat and hold water in the tank. Afterward, the water flows into your plumbing system so you can use it. 
Tankless water heater, on the other hand, heats the water on demand. The heat exchanger of the tankless water heater raises the temperature of the water by transferring the heat from one source to another. The heat exchanger activates only when you turn on the hot water. Thus, it saves energy while providing hot water whenever you need it.
Water Heater Services Mississauga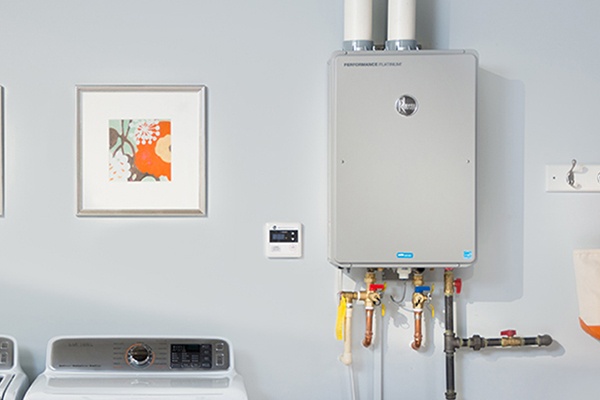 Tankless Water Heater Installation in Mississauga, Toronto, and Oakville
At Dolphin Mechanical Services, we constantly expand, improve, and implement our services. Tankless water heater installation is an innovative service that we provide to all clients in Mississauga, Toronto, and Oakville. Installing a tankless water heater is a complex process that only a professional technician can complete. As your HVAC contractors, we will gladly upgrade your house with an outstanding water heating system! 
Before you purchase a tankless water heater, you can ask for our advice. Our knowledgeable staff will recommend the best tankless water heaters based on your needs and preferences. This type of water heater is more expensive than a traditional water heater. However, the traditional water heating system will cost you more in the long run! The tankless appliance saves energy and is easier to maintain. Thus, you will have fewer problems and lower electricity bills! 
The Dolphin Mechanical team will utilize advanced tools to install the tankless water heater at your home. You can stay free of worries knowing that you hired the best installation team for your tankless water heater! The results of our work will show through the high-quality performance and durability of the tankless water heating system. 
Tankless water heaters in Mississauga, Toronto, and Oakville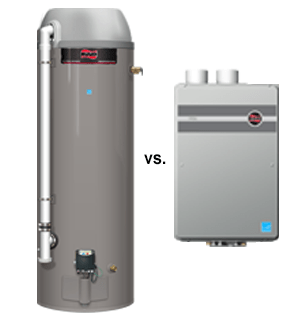 Tankless Water Heater Repair in Mississauga, Toronto, and Oakville
When your tankless water heater starts showing signs of failure, you need to get in touch with us! The complexity of this system requires a rapid reaction. At Dolphin Mechanical Service, that's exactly what we offer! 
Our team is available at all times so you can call us for any urgent repair services you may need. We operate across Mississauga, Toronto, and Oakville. However, if you live outside these areas, you can still contact us!
HVAC certified technicians in Mississauga, Toronto, and Oakville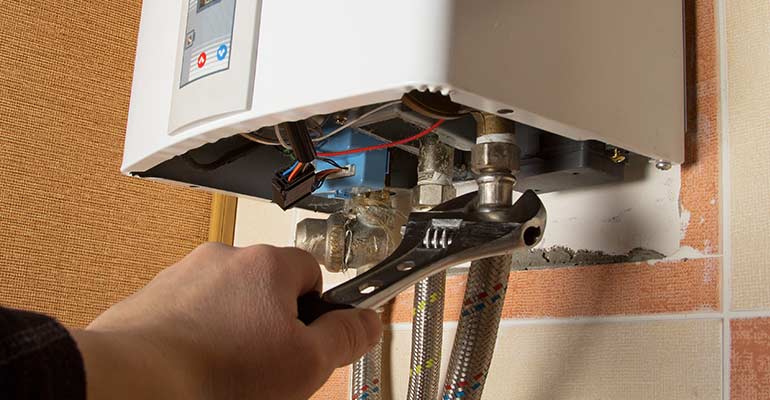 Some of the common tankless water heater issues you may face:
- The water heater is not turning on
Although tankless water heater is also known as "on-demand" heater, you could have a restricted water supply if something went wrong! The culprit could be the circuit breaker, the electrical system, or the ignition system, among others. Schedule the tankless water heater repair service at Dolphin Mechanical Services and we will fix that issue!
- Discolored hot water and bad odor
Mineral buildup in the water heater can make the water discolored and give it a bad odor. If you don't sort this problem timely, the mineral remains could harm the heat exchanger of the system. Our repairmen will inspect your tankless water heater and remove the mineral buildup. We will also give you some advice that will stop this issue from occurring often.
Overheating could happen as a consequence of faulty temperature sensors or other parts of the water heater. Not fixing the water heater that overheats could cause serious damage to the entire house. Be careful! As soon as you notice that your water heater is overheating, call us. We will repair the system shortly and enable you to continue using hot water without any restrictions.
Call us to install, repair, or maintain your tankless water heater in Mississauga, Toronto, and Oakville!
Ductless Air Conditioning Installation and Repair
Our professional technicians install ductless air conditioning in Mississauga, Toronto, and Oakville quickly and precisely. We also repair ductless air conditioning all year round. Inspecting appliances, cleaning filters, and replacing faulty parts are some of the services included in our ductless air conditioning repair.
Tankless Water Heater Installation and Repair
Hire us to install an innovative tankless water heater at your property. Enjoy the modern "on-demand" heating system! We also fix tankless water heaters in Mississauga, Oakville, and Toronto. Our professional team will detect the culprit of your tankless water heater and repair it without leaving any consequence of the past malfunction.
Furnace Installation and Repair
Expert repairmen at our HVAC company install and repair furnaces professionally across Mississauga, Toronto, and Oakville. A broken furnace during freezing winter in Canada is a serious problem that we will solve for you! We work 24 hours a day, 7 days a week. Anytime your furnace shows signals of malfunction, call us! We will send our professionals to repair your furnace immediately and keep your property warm at all times.
Sheet Metal Machinery Repair
Dolphin Mechanical Services delivers premium sheet metal machinery repair. We fix a wide range of sheet metal machines in Mississauga, Oakville, and Toronto at convenient prices. Our staff will make sure you don't stay off metal work any longer than necessary. Call us and we will repair broken sheet metal machines for you!